Posted: Thursday, March 8, 2018 10:10 AM
---
Need a technician to assist in a roadside battery change or jump start?
Don't tow your vehicle to an auto repair shop for a dead battery!
Call PMC Super Tuners (314) 838-7949
Get technician assistance with a roadside battery change or jump start on the spot!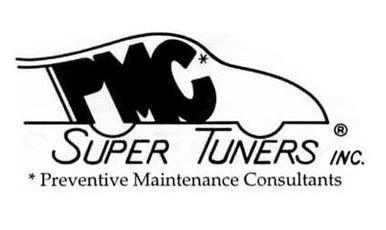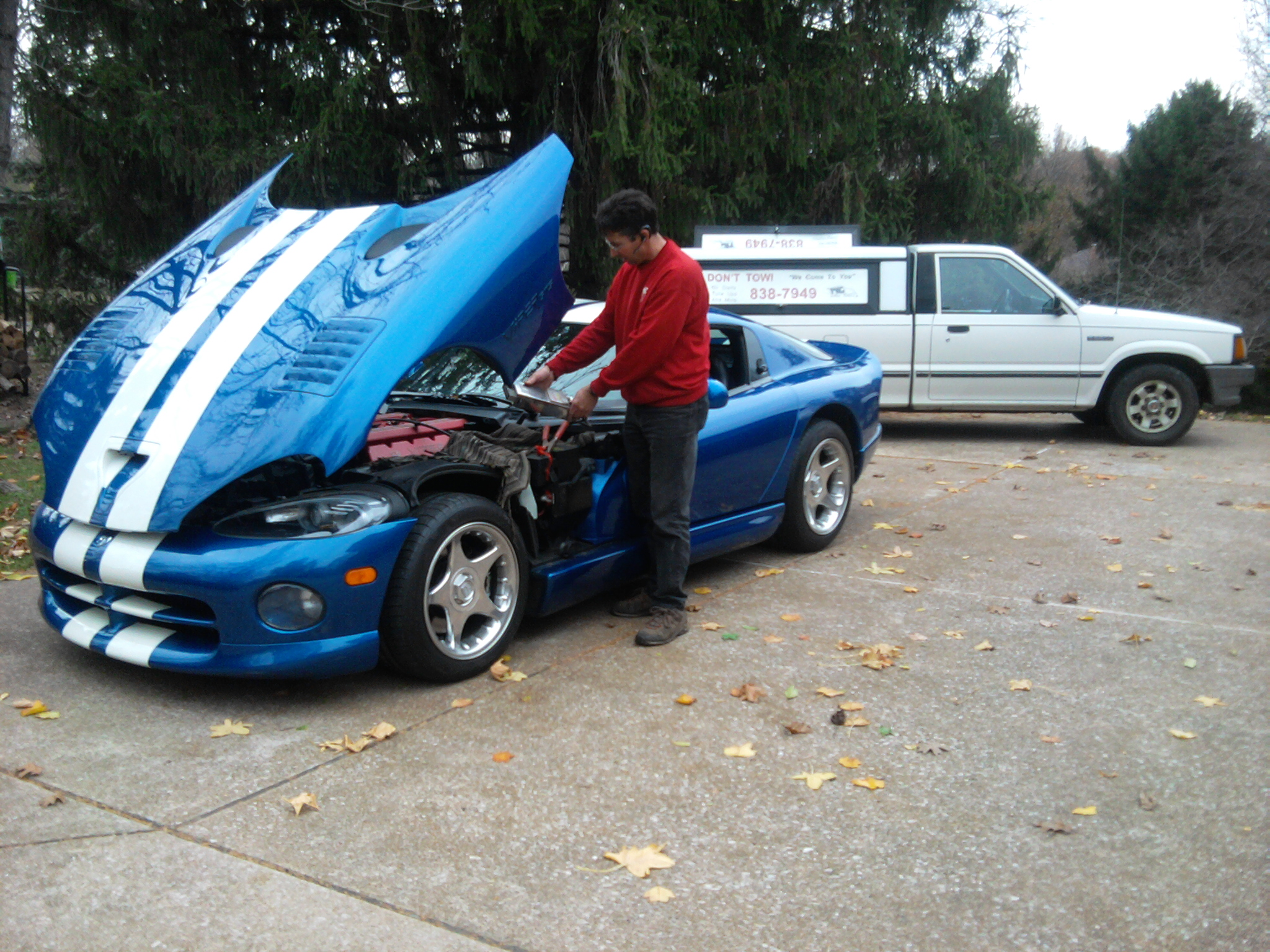 PMC Super Tuners Inc. is a family owned and operated automobile business. Certified, Licensed, and Insured in St. Louis County and St. Charles County Missouri since 1988, we help our customers to fix, maintain and repair their: Automobile, Car, Truck, Motorcycle, ATV, SUV, UTV, Van, or Mini Van on the spot.
We Come to You with roadside assistance to perform, Diagnostics, Mechanical, and Electrical, Automotive Repairs On The Spot. This can help save you Time and a Towing bill! Specializing in: No Start Diagnostics, Battery, Alternator, Starter, replacement/installation, Jump Start, Spare/Flat Tire change, Tune up, Computer Scan/Emission Diagnostic, Fuel delivery, and more.
We currently have an "A+" rating with the BBB of Missouri. Automotive repair performed by a PMC Super Tuners Inc. mobile auto repair shop Mechanic/Technician. Have a 90 day or 3000 mile workmanship warranty for your atv, utv, motorcycle, suv, truck, van, or car repair. Hours of operation are: Mon-Fri 8AM-6PM and Sat 8AM-Noon.
Need a battery change, or jump start on a shoestring budget?
PMC Super Tuners affordable, convenient, mobile automotive care.
Maintain your vehicle and save!
To visit our website: http://pmcsupertuners.com/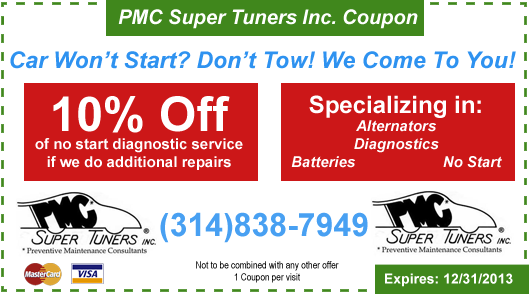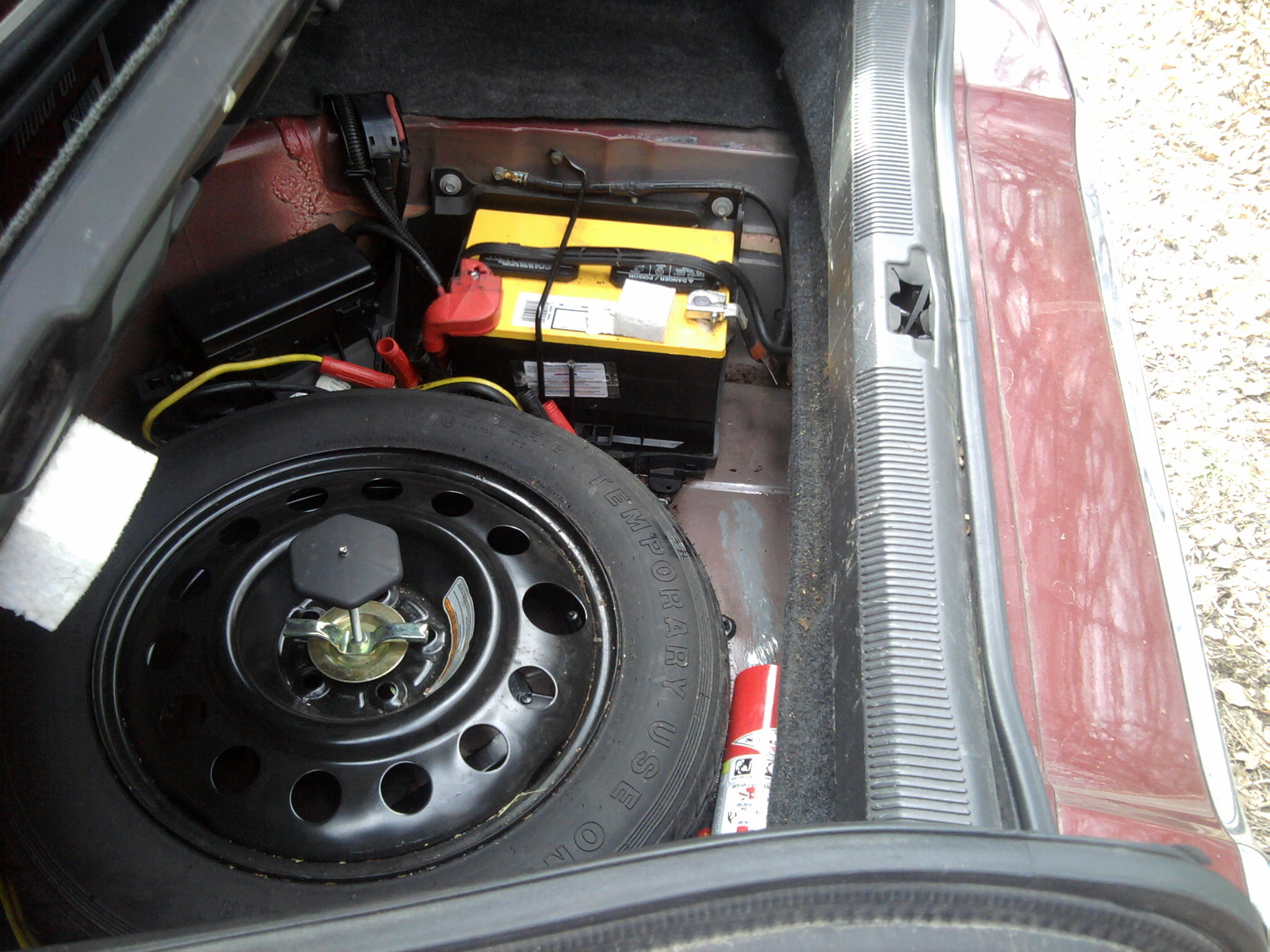 PMC Super Tuners
(314) 838-7949
On the spot, We Come To You!
PMC Super Tuners has been in business for 25 years, since its creation in 1988. We have met the automotive repair needs of thousands of customers and have maintained an "A+ rating" with the Better Business Bureau of Missouri. To see our rating, please visit the auto repair and service in Florissant, MO BBB page. We have many satisfied customers and hope you will be the next.
In 1991 the St. Louis Post Dispatch reporter Elaine Viets wrote an article about us. We were also featured on Channel 2 news. To see the article and news feature, visit our Automotive Repair Testimonials page. If you are looking for a professional, high-quality automotive repair or roadside assistance company that can fix your car while working around your busy life, then schedule your next appointment with PMC Super Tuners, Inc. for automotive repair, roadside assistance, or general vehicle repairs to your car, motorcycle, SUV, ATV, truck, or van, on the spot.
PMC stands for Preventive Maintenance Consultants. Call us for help fixing most anything, from basic car repairs, tune ups, no starts, and dead battery issues to starter or alternator problems. We also offer regular preventive maintenance for your vehicle to prevent those untimely and inconvenient break downs. An ounce of prevention is worth a pound of cure! If there is more repair needed than our technician can perform on the spot, the technician can give you an honest assessment of the problem. It is like having a doctor's second opinion before performing major surgery on your automobile.
Jump start, spare tire change, diagnostics, preventive maintenance, electrical/mechanical repairs, and other automotive repairs are conveniently delivered to your home, office, or even the side of the road, with our mobile auto repair roadside assistance service! We come to you with the knowledge needed to fix the car problem on the spot! This maximizes the use of your time at home or work without wreaking havoc on your schedule. Our rates are competitive and are often lower than traditional auto repair centers. We can help you with your car problems. To lower the cost of car repairs and maintenance even further, we offer you the option to provide your own new or used auto parts. This can be a substantial savings! PMC Super Tuners helps you save time and money, and can even lessen your footprint on the environment!
Car, motorcycle, SUV, truck, van won't start? Don't Tow!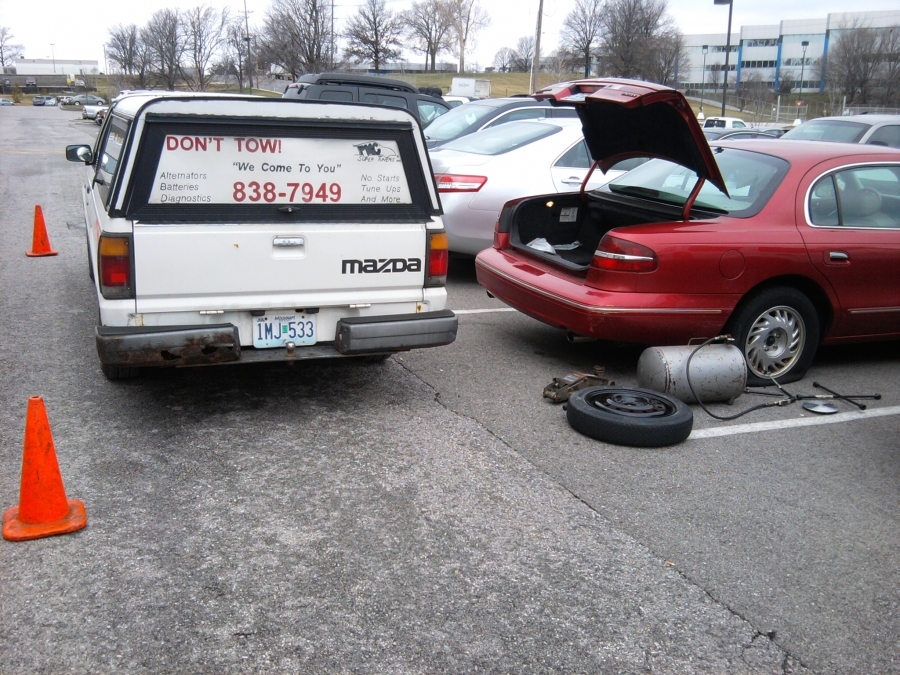 We accept Cash, Visa, MasterCard, American Express, Discover, and Debit Cards.






MOBILE AUTO REPAIR, Motorcycle, SUV, Truck, Van, MECHANIC, ROADSIDE ASSISTANCE
Automotive Repair on the spot, We Come To You!
• Location: St. Charles MO, At Your Location, St. Louis

• Post ID: 8826327 missouri